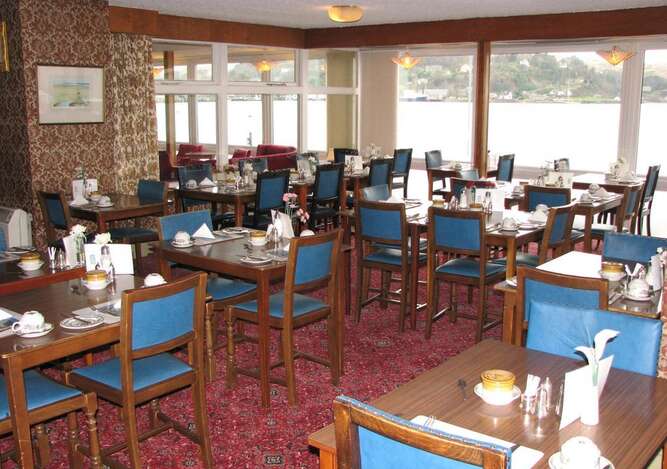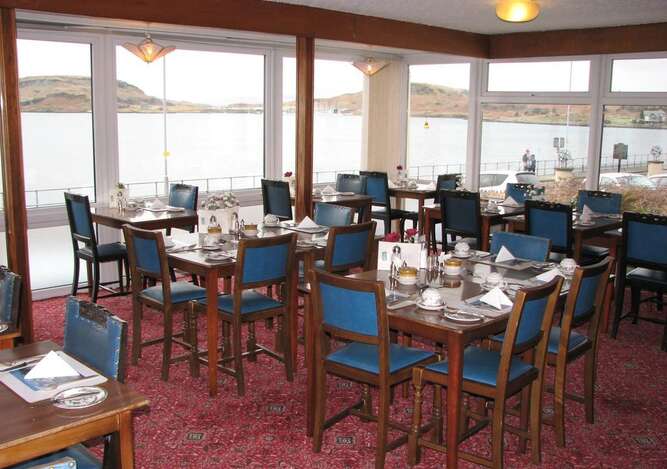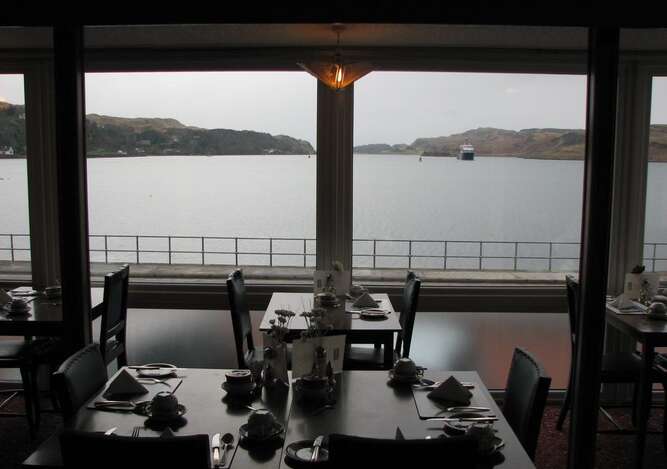 Dining Room
The dining room seats up to fifty people and has a panoramic view over Oban Bay.
The dining room is open for breakfast. We can serve up to fifty people in comfort. The view from the windows takes in the island of Kerrera with the distant peaks of Mull in the background. To the right there is views of Lismore and Maiden Island with the Morven hills in the background. Looking straight out of the windows to the front, you can see Heather Island and down the Sound of Kerrera. During the day there is always some sort of movement on the water with the Caledonian McBrayn ferries running to Mull, Lismore, Coll, Tiree, Bara, South and North Uist as well as the numerous fishing and private vessels that come to Oban. At night when the sun goes down there is always the movement of the local fishing boats all year round.
The opening hours are: Breakfast 8.00 - 9.30
As we are no longer serving lunch or dinner, we are now offering a snack meal service.
At present we are serving the following snacks in the bars, front porch and the reception area:-
Hot Snacks
Minestrone Soup £3.50
Lentil Broth £3.50
Scotch Broth £3.50
Cullen Skink £5.50
Seafood Chowder £5.50

Fish and Chips £6.00

Chilli con Carni £6.00
Chicken Fricassé £6.00
Lamb Stovies £4.00
Macaroni Cheese £4.00
Mince and Potatoes £4.00
Beef Burger £1.80
Double Beefburger £3.10
Cheese Burger £2.00
Double Cheese Burger £3.50
Chicken Burger £2.75
Double Chicken Burger £5.00
Hot Dog £1.50
Bowl of Chips £2.00
Pot of Tea or Coffee £2.00
In the reception there are the menus of several of the local restaurants for you to look at, should you wish something more substantial to eat